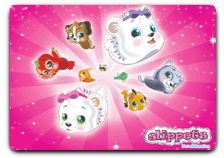 SLIPPETS PET COLLECTION
The SLIPPETS are tender and cute, colorful and cuddly baby slipper from all over the world.
They all live together in Slippettown, an enchanted village where all the inhabitants are slippers.
The second series of SLIPPETS sees the little slippers in the world of baby pets: many cute dogs, cats, birds, hamsters and fishes
Each display contains 24 foil bags and the collection includes 23 pairs of almost identical twins!
Website